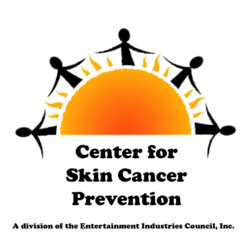 Reston, VA (PRWEB) June 05, 2013
The mercury is beginning to rise across the nation, signaling the long-awaited start of summer. Pools, amusement parks, golf courses and beaches will soon become havens for sun exposure, increasing pubic risk of potential life-long dangers including skin cancer. The Center for Skin Cancer Prevention of the Entertainment Industries Councils Entertainment & Media Communication Institute is sponsoring National Sun Safety Week through this Saturday, June 8th. The week is designed to encourage people to take control of their health by protecting skin and eyes.
The Center for Skin Cancer Prevention, formerly known as the Sun Safety Alliance, provides detailed sun safety resources, activities and information for all ages, demographics, and outdoor enthusiasts. While sun safety should be practiced 12 months a year, we spotlight the summer months when outdoor sports and the desire to tan elevate the dangers of skin cancer for young people. Our goal is to inform every person, through the power of mass media, of the dangers of excessive sun exposure, said Brian Dyak, President and CEO, Entertainment Industries Council, Inc. (EIC).
This week represents eight years since Congress first recognized the importance of sun safety and the need for school-based sun safety education programs. In a resolution by the 109th Congress, all Americans were encouraged to protect themselves and their children from the dangers of excessive sun exposure and to support the goals and ideas of National Sun Safety Week.
Suggestions for being Sun Safe:


Just one blistering sunburn can double a childs risk of developing skin cancer later in life, so make sure to protect your childrens skin and teach them healthy habits.
Skin protection is important even on a cloudy day. Use SPF 30+ on all exposed skin, and remember to reapply every two hours. Make sure that your sunscreen protects against the entire UV spectrum, including both UVA and UVB rays. Dont forget areas such as your ears and the tops of your feet; they can burn, too.
Donning a wide-brimmed hat and sunglasses will protect your familys eyes and face. Seek shade during the hours of 10 AM 4 PM, when the sun is strongest. Remember that water, sand, and concrete reflect the sun, making its rays even stronger.
During extreme heat, check on elderly friends, family, and neighbors, and remind them to remain indoors and stay hydrated. Drinking plenty of water is also especially important when spending time in the sun.
Tanning beds are just as dangerous as the sun. Join the healthy skin movement, and teach your family that fair skin is beautiful and healthy.
For more information about Sun Safety Week, the Center for Skin Cancer Prevention, and skin cancer, visit http://www.sunsafetyalliance.org/.
About the Center for Skin Cancer Prevention

The Center for Skin Cancer Prevention is a communication and educationally focused center of the Entertainment & Media Communication Institute, a division of the Entertainment Industries Council, Inc. The Centers mission is to reduce the incidence of skin cancer by bridging the gap between research on sun safety and skin cancer prevention issues and strategic means of communicating them to the public. It also works to educate the public and improve awareness regarding the importance of sun care safety, especially for children, and to encourage members of the public to take action to protect themselves and their families from the dangers of the sun.
About Entertainment Industries Council

EIC is a non-profit organization founded in 1983 by leaders within the entertainment industry to bring their power and influence to bear on communication about health and social issues. This mission relies on providing resource information to the creative community and culminates in recognition of the industry through the national television special PRISM Showcase which addresses accurate portrayals of substance use issues and mental health concerns. The organization also produces the S.E.T Awards, honoring positive and non-stereotypical portrayals of science, engineering and technology. For a complete list of health and social issues addressed by EIC and local projects please visit First Draft and EICs website. EICs web site is http://www.eiconline.org. The PRISM Awards web site is http://www.prismawards.com.
Tags: Cancer, Center, Councils, During, Encourages, Entertainment, Industries, Practices, Prevention, Safety, skin, SkinSafe, Week